Fire Proofing Inspection & Testing
 Metro Testing + Engineering's Fire Proofing Inspection & Testing services include a complete review of project specifications and technical data sheets as well as site visits and visual inspection by one of our qualified engineers or senior technologists.
Metro's professional team will also provide a field review report and letter of assurance.
Review of project specifications and technical data sheets
Visual inspection of the sprayed areas
In-place thickness and density determination (ASTM E605)
Field Review Reports and Letter of Assurance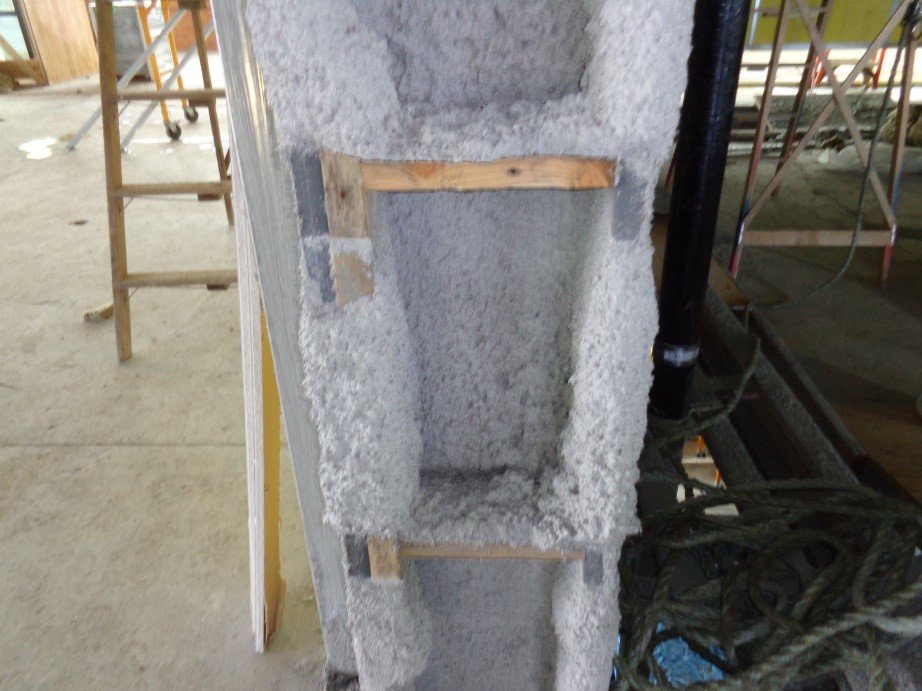 Cured-In-Place Pipe Testing
METRO's engineers and technicians provide cost effective and accurate testing services to ensure that materials used for Cured-in-Place Pipe installation comply with the contract specifications of the ASTM standards.
With branch offices throughout British Columbia and Alberta, the METRO team can offer Cured-In-Place Pipe Testing on any job site and provide the client with independent and comprehensive assessments of CIPP projects.
Easy retrieval of samples from the job site
Accurate testing services
Compliance with chain of custody requirements to assure that samples taken and tested are representative
Cutting, Coring, GPR Scanning & Pull Testing
METRO's technicians specialize in concrete cutting, coring and drilling along with the removal of small to medium structures. We offer a complete scope of concrete removal of slab-on-grade for pits, bases, service trenches and other applications, as well as total disposal of materials off-site.
Coring is invaluable for various purposes including the installation/removal of conduits, duct work, water, electrical and gas lines. Using ground penetrating radar (GPR) to safely assess and report any obstructions in the concrete or asphalt, prior to penetrating into the structure, our trained technicians can drill holes from ¼" to 12" in diameter and extract cores from 6 inches to more than 20 feet. Our gas powered coring equipment gives METRO's technicians the ability to provide coring services in remote locations.
METRO also offers pull testing services to measure and evaluate bond strength distributions and determine the long-term reliability of bonds under stress conditions such as vibration, shock, thermal cycling and regular wear.
Cutting
Flat Sawing
Slabs can be cut up to 32" in depth from the surface
Coring
In situ concrete strength confirmation
Road evaluation with asphalt depth and density
GPR Scanning
Rebar location (horizontal/vertical surfaces)
Conduit and post tension cable location
Pull Testing
Measure and evaluate bond strength distributions
Determine long term reliability under stress conditions
Fibre Composite Testing Services
The use of fibre composites in the repair and rehabilitation of commercial, industrial, residential, and transportation structures has become a popular application method in the construction industry.
The most commonly used fibre composites are single- and multi-ply composites made of uni-or bi-directional carbon or glass fibre mats and epoxy resins. Where properly used, fibre composites can add significant strength to structural elements at a very small weight penalty.
METRO's engineers and technicians provide quality assurance, quality control, and testing services related to fibre composite installations and determine tensile strength, modulus and elongation to rupture to ASTM D3039.
Materials consulting and specifications
Installation monitoring
In-situ bond testing
Witness panel testing Trouble-shooting
Fire Proofing Inspection & Testing
METRO'S Fire Proofing Inspection & Testing services include a complete review of project specifications and technical data sheets as well as site visits and visual inspection by one of our qualified engineers or senior technologists.
METRO's professional team also provide a field review report and letter of assurance.
Review of project specifications and technical data sheets
Visual inspection of the sprayed areas
In-place thickness and density determination (ASTM E605)
Field Review Reports and Letter of Assurance
Floor Flatness/Levelness Testing/3D Mapping
Metro Testing and Engineering proudly offers specialty testing on floor flatness and floor levelness for both defined and random traffic floors in compliance with ASTM E1155. Our services are cost effective and our clients' receive accurate, timely and instructive reports.
Flatness testing should always be measured within two days of the concrete pour and if post-tensioning is involved, before the cables are put in. METRO's real time testing of concrete slabs during placement/spacing is an excellent quality assurance tool.
METRO also offers additional services related to this area of testing including determination of slab camber and preparation of surface/floor remediation consultation and plans. We also offer 3D Floor Mapping which provides invaluable information where remediation or evaluation is required.
Real time testing for flatness/levelness
Accurate, timely and instructive reports
Assessment to predicted deflections on the slab
Assessment to determine efficiency of designed post-tensioned slabs
Pile Driving Analysis Testing
Metro Testing and Engineering is known for specialized non-destructive testing and we are constantly on the forefront of the latest technologies. Pile driving analysis testing is a sophisticated and invaluable tool for the construction and engineering communities and is one of the specialty services that METRO provides.
Sensors attached to the pile measure displacement, stress and forces experienced during dynamic pile driving, giving our engineers the ability to evaluate the capacity of several piles within a day in terms of shaft and end-bearing resistance. Most projects utilizing piled foundations include PDA testing to ensure the integrity of the piles in the specifications.
Data captured in real time
State-of-the-Art Pile Driving Analyzer
CAP/WAP Analysis
Evaluation of pile capacity
Post-Tensioning
METRO's scope of service for a typical post tension concrete slab or beam of concrete includes observation and review of material handling and storage and assisting with the flow of Post Tensioning information and compatibility for all materials. It also includes a pre-pour visit to ensure appropriate post tension tendon placement and pour monitoring to ensure protection of the post tension tendons during concrete placement.
Services also include determination of in situ concrete strength prior to stressing and strand pull force and corresponding elongation during stressing. Monitoring tendon end capping and patching after the stressing operation is also performed before a final Post Tension Summary Report is issued.
Observations of material handling and storage
Pre pour visit and pour monitoring during concrete placement
In situ concrete strength determination prior to stressing
Monitoring before and after stressing is performed
Resistograph Testing
METRO has experience and knowledge in specialized timber testing and analysis. Using a specialized Resistograph drill, our team can detect small pockets of low density wood at depth by drilling a small (1/16") drill into the wood while recording the resistance to drilling.
The test is a simple and practical approach to measuring timber members and the drill bit is small enough to not impact the integrity of the timber member. The resistance is plotted on a graph paper which can be used to estimate section loss and the 16 inch drill bit depth is an excellent tool in determining the soundness of the timber member.
Specialized timber testing and analysis
Detects pockets of low density wood
Test drill does not impact the integrity of the timber member
Shotcrete
METRO provides a wide range of shotcrete consulting services, including nozzleman training, ACI nozzleman certifications, shotcrete mix designs (including fibre shotcretes and high-performance shotcrete), shotcrete placement monitoring and trouble-shooting for the wet-mix and dry-mix shotcrete processes. The METRO team also provides specifications for shotcrete work and QC/QA services for shotcrete projects.
METRO's shotcrete experience spans many unique applications for shotcrete in underground, rock slope stabilization, marine, civil and structural applications and our laboratories are capable of performing a multitude of tests on fresh and hardened shotcrete.
Nozzleman training and ACI nozzleman certification
Shotcrete mix designs
Shotcrete placement monitoring
Trouble shoot for wet-mix and dry-mix shotcrete processes
Quality Assurance/Quality Control services for shotcrete projects
Soils & Aggregate Corrosivity
Metallic elements in the form of oxides, sulfides and carbonates can occur naturally on or in the ground when construction materials such as iron pipes and rebar come into contact with soils, aggregate or other materials. Soil & Aggregate Corrosivity Assessments are an important tool for industries to use to ensure public safety and expand the service life of public structures including drinking water and sewer systems, highway bridges, and gas and liquid transmission pipelines, above and underground storage tanks, steel-in-concrete structures and other infrastructure assets.
METRO's highly qualified technical and professional services include condition surveys (corrosion) of infrastructure, laboratory analysis and evaluation of the degree of corrosivity and possible cause of failure, repairs on concrete due to pipe and rebar corrosion, and testing and maintaining cathodic protection systems.
METRO provides field and laboratory testing to evaluate the corrosive potential of soil based on resistivity, pH, sulfate, chloride, redox potential and sulfide. Condition survey data provides information that helps establish important baseline measurements to evaluate the long-term sustainability of critical core infrastructure and data collection on pipeline and pump station infrastructure assets has helped provide a clearer picture of the physical state of three major asset classes: Water, Waste Water and Storm Water.
Following inspection and assessment, METRO's corrosion team can design cathodic protections solutions and comprehensive integrity programs that best meet the needs of any specific structure. Preventative maintenance, including regular testing of cathodic protection systems, are also key to ensuring continued corrosion protection and prevention of corrosion damage. Metro Testing and Engineering offers comprehensive inspection services, corrosion survey, stray current detection and annual or periodic cathodic protection testing.
Expert analysis of test results
Condition surveys
Detection of cracks or other anomalies in concrete
Repairs due to pipe and rebar corrosion
Testing and maintaining cathodic protection systems
Soil Thermal Resistivity
METRO's testing and consulting services for soil characteristics are backed by sophisticated data analysis that comes from years of research experience on heat and mass transfer in soils and other porous materials. Soil thermal resistivity (TR) is an important thermal characteristic to measure – when heat generates in utility cables, whether direct buried or in an underground pipe, it must be carried away through the soil surrounding the cables. The rate of heat dissipation determines the temperature the cable will reach during any loading condition. If the temperature becomes too high the cable can be damaged.
Using the transient line heat source method, the METRO team can measure thermal diffusivity, heat capacity, thermal conductivity and thermal resistivity, and if necessary, can help select and/or develop suitable backfill materials for specific use. Field thermal resistivity surveys can also be conducted upon request for new construction projects or existing projects where there are concerns or signs of cable failure.
Soil characteristic testing
Measurement of soil thermal resistivity
Sophisticated data analysis
Field thermal resistivity testing
Structural Health Monitoring
Structural Health Monitoring improves the safety of a structure and extends the life cycle of existing structures and Metro Testing and Engineering can provide low cost technologies for long lasting solutions.
Our expert team and advanced technical systems offer measurements of movement, vibration and strain in structures such as bridges, stay cable bridges, commercial and residential buildings, airframes, pipelines, drilling platforms, wind turbines and more. METRO's monitoring centre operates 24/7 retrieving data from the structure and our monitoring equipment can generate detailed reports on a real-time basis.
Low cost technologies /long lasting solutions
Vibration analysis based on CAN CSA S6-06 and ASHTO requirements
Strain and angular movement
Crack activity monitoring
Moisture & temperature monitoring
Thermal Management In Mass Concrete
Concrete generates heat as the cementitious material hydrates. For concrete with a small volume (i.e. a high specific surface area), this heat may dissipate almost as quickly as it is generated. In the case of massive structures however, significant temperature increases occur due to generated heat of hydration. The hydration process of cement is a series of non-reversible chemical reactions between cement and water; early hydration has an influence on concrete plasticity and later hydration governs concrete strength.
Metro Testing and Engineering can provide estimations and predictions of heat generation in concrete mixes by modeling and performing laboratory mockup tests that will determine the thermal behavior of a particular mix, allow for a dry run of the temperature monitoring system, check the fresh concrete performance, and provide a better understanding of thermal performance under more realistic conditions so a concrete temperature curve at early stages of curing can be obtained.
As different factors may cause the concrete temperature to vary from the predicted value, on site temperature monitoring and control systems can be essential. Choosing the correct temperature control system requires considerable expertise and depends on the site and ambient conditions, often require special formwork modification and extended periods of curing.
Predicting and modelling the heat of hydration in the structure
Laboratory mock-up thermal tests
On-site temperature monitoring
Temperature controlling services
Window Envelope Testing
Metro Testing and Engineering provides on-site penetration testing of installed exterior windows, doors, and curtain wall systems by uniform or cyclic static air pressure difference, in accordance to ASTM E1105.
ASTM E1105 testing is performed by creating a pressure differential (the water penetration resistance rating as determined by project specifier) across the fenestration product by means of a constructing a sealed "test chamber" on the interior side of the test specimen while applying water at a specified rate using a calibrated spray rack. This basically simulates a wind driver rain even under severe rainfall conditions.
This test can determine whether the installed fenestration product meets the project specified water penetration resistance requirement, or detect any failure or water ingress locations within the fenestration assembly.
On-site penetration testing of fenestration assembly
Test for adherence to specified water penetration resistance requirements
Detect failure or water ingress locations
Acid Rock Drainage/Metal Leaching Testing & Evaluation
Annual compliance requirements for quarry development includes testing and evaluation for potential acid rock drainage and metal leaching of aggregate source materials, as well as assessment of additional mechanical properties, local bedrock and/or soil materials that may be excavated during construction activities.
Basic lithological mapping should typically be done in conjunction with the sampling program to identify different rock types and aggregate/soil samples submitted for static testing. Where trace element values are found to be one order of magnitude above the expected abundance of the rock type being assessed, additional tests are recommended. Shake flask extraction testing (SFE) for example, will assess the potential for metal leaching into aqueous solution and the results are then analyzed and compared to applicable regulations. Percentage determinations are based on LECO furnace, sulphate sulphur by HCl acid dissolution, and the standard or modified Sobek method.
Evaluation and testing for acid rock drainage and metal leaching
Lithological mapping
Static testing and acid-base accounting (ABA) analysis
Analysis of whole rock paste pH, total sulphur and sulphide sulphur